These face-frame cabinets are finished with a three-layer lacquer stain, allowing the natural beauty of the grain to highlight your cabinet. These Innocraft Cabinets are made with exceptional quality plywood, built with artistry in the interior and the exterior of your storage.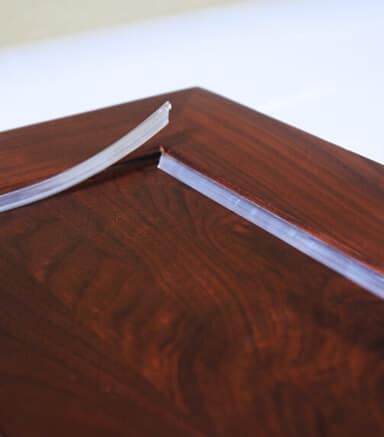 To enhance the natural wood grain, our three layer lacquer stain technique creates a smooth finish with protective layers that will last for years to come.
Rubber strip technology is a special procedure used in five-piece doors to keep the center panel in place which allows it to shift naturally when wood pieces expand and contract.
This kind of assembly enables us to coat the center panel of the five-piece door separately so that the door panel can be completely stained and finished before it is installed. Rubber strip technology allows an installer the option to replace the center panel with glass or another design that will fit with your aesthetic.
Premium Plywood Box with full hardwood back panel (U)
The structure of the cabinet is made with a full 5/8 inch for all panels of the box. Other cabinets may skimp on plywood panels in size or material when they not visible in appearance, but all panels of the premium plywood box are full thick panels, meant to be sturdy and meant to last.
Full Access Frame Cabinets allow you to take maximum advantage of the space that you can use inside the cabinet. These frameless cabinets eliminate the frame from the front of the cabinet, allowing you more access to the storage and are often built with sturdier construction to handle the reinforced box.
The full overlay feature of the cabinet covers the entire frame of the cabinet, using precision to make sure the cabinet structure is concealed from the front so the focused appearance is concentrated on the cabinet drawers and doors.